Hey guys! I am going to keep this post short and sweet but I just wanted to announce that my BFF and I are throwing a small giveaway for our Birthdays! Some of you may know her...It's
Stephanie
from
Simply Schoolteacher!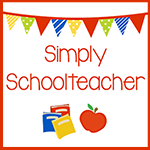 Stephanie and I met our Freshman year of college, and little did we know at the time our birthdays are (almost) exactly a week apart! Since both of our stores are still getting started, we decided to
team up to do a small winner's choice giveaway!
We will run the giveaway throughout the week (and a day) between our birthdays! It will start on Friday, the 19th (mine), and end on Saturday, the 27th (hers). More details and the Rafflecopter will be posted Friday, so stay tuned! :)
Have a fabulous Thursday friends!
Much love,